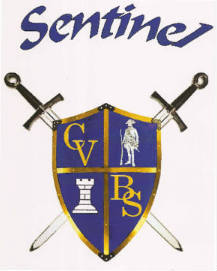 The primary purpose of CVBS is to provide an opportunity for children to learn and study in a Christ-centered academic environment.
Since it is futile to teach students how to make a living without teaching them how to live, it is the objective of CVBS to teach each student the Biblical principles which give a proper Christian perspective of his world and equip each student to live a knowledgeable, responsible and creative Christian life in this world.
Christian education is the teaching of God's revealed truth through the study of God's Word. All subject matter is to be explained in the light of God's truth. We seek to educate children so that they may learn to successfully integrate God's Word into every aspect of living. When one has a personal relationship with Christ, who is both Creator and Sustainer of the universe, the sciences become more exciting. History assumes fresh importance when understanding that nations do not rise and fall without God's allowance or intervention. The social sciences become more meaningful when seen through God's redemption and unconditional love.
The primary responsibility of Christian education rests with the Christian parent. We strive to establish close cooperation with parents to assist in the awesome responsibility of training their children to know, love and obey God.
Cascade Vista Baptist School offers…
A pre-school program for 4-yr-olds
A traditional classroom education for Kindergarten through 12th grade with low pupil/teacher ratios
An excellent academic program for upper elementary and secondary grades
Qualified and dedicated Christian teachers and staff
Daily Bible lessons/Bible memorization
Weekly Chapel
A Beka and Saxon Math curriculum
Physical Education, Art and Music
Patriotic emphasis
Disciplined environment with emphasis on Christian character development
Admission Standards…
Prospective students are tested and interviewed. Acceptance is based on the results of each, along with a review of former school records. Parents are personally interviewed. Parental involvement and commitment to the Christian philosophy of education is essential.
The student must be of eligible age for grade assigned. To enter kindergarten, children must be five (5) years of age by September 1st and show a readiness for an academic program. Our kindergarten is a full-day schedule.
Students in the pre-school program must be four (4) years of age by September 1st of the year they are entering.
Financial Information
Cascade Vista Baptist School offers reasonable tuition rates that are payable in ten (10) monthly payments (August-May). Tuition is discounted for families with more than one student enrolled.
Our school program is generously supported by the church family, making it affordable to families while maintaining a high-quality education.
The Galilee Baptist Church/Cascade Vista Baptist School admits students of any race, color, national and ethnic origin to all the rights, privileges, programs, and activities generally accorded or made available to students at the school. It does not discriminate on the basis of race, color, national and ethnic origin in administration of its educational policies, admission policies, scholarship and loan programs, and athletic and other school-administered programs.
School Staff
Bob Fricks
School Administrator, Secondary Teacher
Michael Day
School Secretary
Rick Jones
Registrar, 5th – 6th Grade Elementary Teacher
Elementary Staff
Rebecca Rasmussen
K-4 Elementary Teacher
Deanna Mullins
K-5 Elementary Teacher
Darlene Fricks
K-5 Elementary Teacher
Edna Hodgins
1st-2nd Grade Elementary Teacher
Ann Hicks
2nd-3rd Grade Elementary Teacher
Martha Day
3rd-4th Grade Elementary Teacher
 Secondary Staff
Gloria Gaupp
Secondary Teacher
Chris Haynes
Secondary Teacher
Lurlene Jones
Secondary Teacher
Dan Rasmussen
Secondary Teacher
Library Staff & School Aides
John Peterson
Library Staff
Gary Dahlman
Library Staff
Rudy Gustafson
Teacher's Aide
Corky Dahlman
Teacher's Aide
Sherri Worthington
Office Assistant